Late on Oct. 10, Texas killed Jedidiah Murphy.
The execution only happened because the U.S. Supreme Court allowed it to happen. And yet, the high court didn't give so much as one word of explanation as to why it did so.
U.S. District Judge Robert Pittman had put Murphy's execution on hold while a similar case about Texas's DNA-testing procedures was decided by the U.S. Court of Appeals for the Fifth Circuit.
Two of three judges of a Fifth Circuit panel to hear Texas's appeal of that ruling — Judges Leslie Southwick and James Graves Jr. — agreed with Pittman's decision, keeping the stay of execution in place until the other case was resolved. Judge Jerry E. Smith, the third judge on the panel, somewhat infamously disagreed and thought the execution should proceed.
All four of those judges, however much they might have differed in their opinions, explained their reasoning. They were appointed by three different presidents of both major parties. Smith called Southwick and Graves's decision a "grave error." But, they all wrote something. They took a position and explained themselves (even if Smith went on to do so in a confusing and misleading way by publishing a fake majority opinion as an attachment to his dissent).
Had that been the end of it, Jedidiah Murphy would be alive today.
Then the Supreme Court stepped in and issued a ruling that overturned those two courts' decisions, lifted the stay of execution, and allowed the execution to proceed.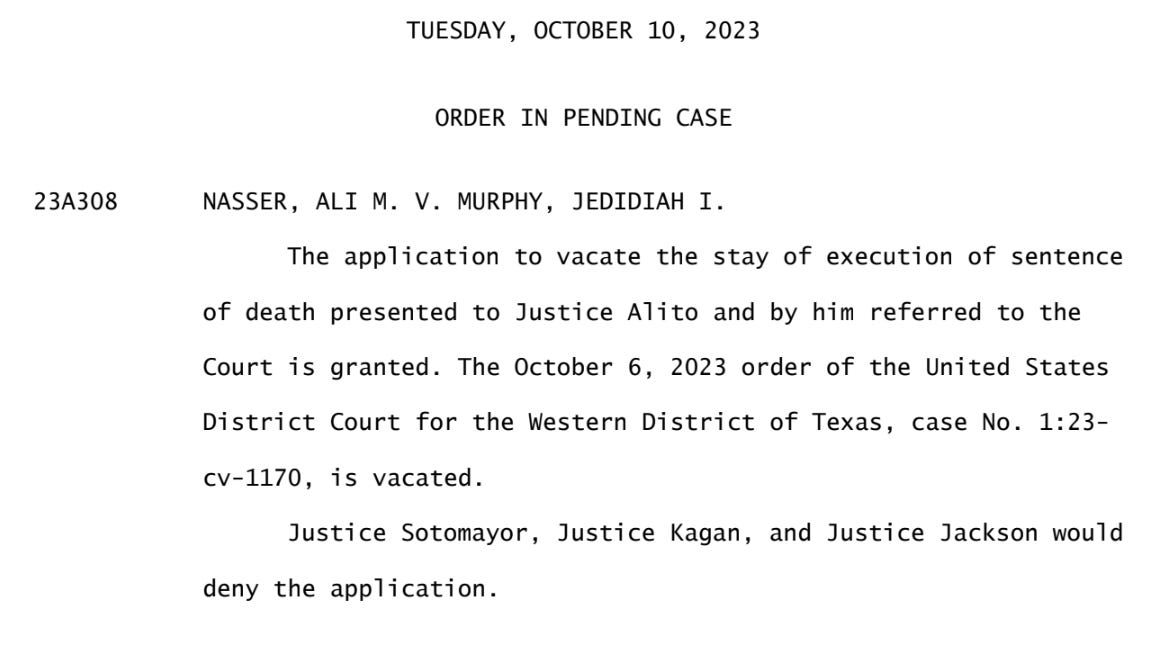 The ruling was made over the noted objection of Justices Sonia Sotomayor, Elena Kagan, and Ketanji Brown Jackson.
The conservative majority did so without a single word of reasoning. What's more, we do not, technically, even know the actual vote because justices do not need to announce their vote on such applications.
All that we know for certain is that a majority of the court — and none of the Democratic appointees — voted to vacate the stay of execution, allowing Texas's execution to proceed on Oct. 10.
Jedidiah Murphy is dead today, and the justices didn't even have to tell us why they let it happen.
None of the nine justices wrote a word. Not even the dissenting justices.
This is the normal practice, court watchers will say in response, and they are right. The court rarely gives any reasoning — let alone issues a fully formed opinion — to explain its "shadow docket" rulings. But, at the same time, that is in part why this part of the court's docket got its name — despite what Justice Sam Alito might think of it.
And, when faced with the court's action this past week, it is hard for me to see how the court can justify such treatment.
If taken out of the procedural justification of "applications" and the "shadow docket," in fact, it's difficult for me to imagine a scenario where the Supreme Court providing reasoning to explain its action would be more important.
On Oct. 10, the U.S. Supreme Court reversed the decisions of two lower federal courts and, as a result, a state was allowed to kill a man.
A court interested in justice — and interested in its institutional integrity — would not take such an action with no explanation.
Louisiana's gubernatorial pick
On Saturday, Louisiana voters chose Attorney General Jeff Landry, a far-right Republican, as their next governor. Achieving a majority of the vote, he will not face a runoff in November.
As I have said elsewhere, this is an election that will have — and already has had — consequences.
After eight years of Democratic control of the governor's office, Democrats' one spot of control in Louisiana's state government will be gone. A moderate Democrat, Gov. John Bel Edwards has been able to push back on many of the most extreme Republican efforts. Once Landry takes over, the opposite could just as likely be true — with Landry pushing the supermajority Republican legislature to more extreme positions as has become the norm in Florida. The state's seven-member supreme court, which is elected, only has one Democratic member and one independent member; the other five are Republicans.
As Piper French wrote at Bolts over the summer, "A win by Landry would return unified control of Louisiana's government to the GOP. But it would also elevate and empower a man who has tirelessly sought to undermine the political power of the state's major cities and shield law enforcement from local and federal reform efforts."
Notably, there will be a runoff to take over the attorney general's office for Landry.
And though the far-right Republican candidate — Louisiana Solicitor General Liz Murrill — certainly has the upper-hand going into November over Democrat Lindsey Cheek, the fact that Murrill could only secure 45% of the vote when Landry got close to 52% is a sign that Murrill will have to work for it — and that Cheek could, theoretically, find a path forward. [More about the attorney general's race; the results.]
Here's more from French on Landry's campaign — and what to watch for now that he's won:
It's not uncommon for Republican candidates to blame Democrats for crime rates in the cities they control as a way of establishing conservative bona fides. But Landry's campaign rhetoric isn't just bluster. During his seven-plus years as attorney general, he has used the power of his office in standard, unorthodox, and at times highly controversial ways to single out New Orleans and the state's other big cities.

Landry's actions have ranged from creating a short-lived anti-crime task force that made arrests in New Orleans without clear jurisdiction to to spearheading punitive legislation that only applied to Louisiana's three major cities. He also tried to strike down a federal consent decree ensuring a majority-Black state supreme court district in Orleans Parish. And he even recently tried to withhold flood protection funds after city officials suggested they wouldn't prioritize enforcing abortion crimes.
Edwards also is the only Democratic governor in the deep South. Gov. Roy Cooper in North Carolina will remain as the only southern Dem governor once Edwards leaves office next year.
Within the state, the consequences of Landry's election have had immediate effects.
On Sunday morning, Louisiana State University journalism professor Robert Mann — who has been at the university since 2006 and has a long history in Louisiana politics and journalism — announced his retirement from the school in the wake of Landry's victory.
Source: https://www.lawdork.com/p/scotus-execution-silence-is-a-failure