-By Amanda Terkel
March 5, 2012- The Hall of Famous Missourians [1] in the Missouri State Capitol is filled with the busts of famous people from the Show-Me State. There are political figures (Harry Truman, John Ashcroft), writers (Laura Ingalls Wilder), musicians (Scott Joplin, Charlie Parker) and even a game show host (Bob Barker). Right-wing radio personality Rush Limbaugh, who is currently embroiled in controversy [2] after he called a female law student advocating for contraception coverage a "slut," will soon be joining that esteemed group.
On Feb. 13, Kansas City, Mo. sculptor E. Spencer Schubert posted on his blog that he was in the process of sculpting busts of Limbaugh and Dred Scott [3], a slave who unsuccessfully sued for freedom for himself and his family in the famous 1857 case Dred Scott v. Sandford, to go into the Missouri State Capitol. Sean Nicholson [4] of Progress Missouri was first to flag the post. From Schubert's site [3]: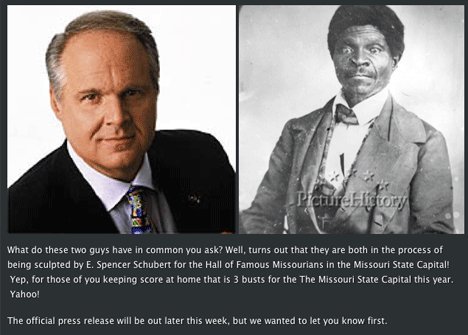 Schubert also posted a picture of him working on the Limbaugh bust [5], with a photo of the radio host pulled up on his computer screen.
FULL STORY HERE: [6]